Direct Beam Comms #69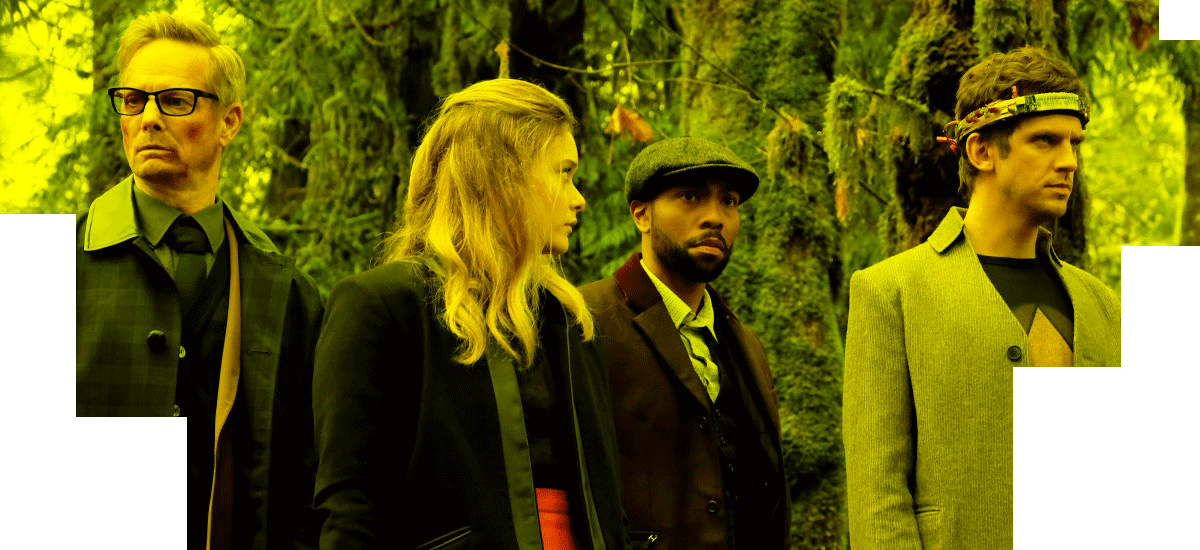 TV
Legion season 1 Grade: A
We live in a golden age of TV where there are literally hours and hours and hours of good TV series to watch each week. So much so that even "good" TV shows nowadays seem to be average. Still, every once in a while there's a really great TV show, something so good it stands out from the rest of the pack. The first great new TV series of 2017 is Legion that just wrapped up its first spectacular season on FX.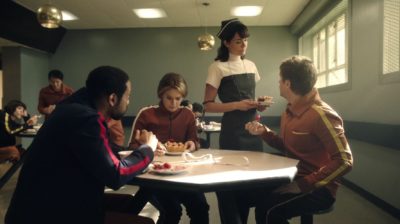 Legion might also be the best comic book TV series ever as well. It's certainly the first comic book TV series that doesn't seem to be constantly embarrassed that its source material is a comic book.
The first season story of Legion was of psychiatric patient David Haller (Dan Stevens) who slowly discovers that the voices in his head might be something more than mental illness, they're something much worse than mental illness. So David and another patient Syd Barrett (Rachel Keller) go on the run, find others like them who want to help while also running from a quasi-government agency who sees David as a threat to global security, at one point his powers are referred to as being a "world-breaker," as they all get to the bottom of what's going on inside David's head. And what's going on isn't nice — in fact it's a lot evil.
Too many comic book TV series (and movies too) seem to take great shame in the fact that they're based on comic books. How many of them are too embarrassed to say, "Based on a comic book" but instead go with the term "graphic novel" instead, of which none of the modern TV series or movies are. Worst of all these tend to either focus only on the dour, depressing parts of the comic books or trying to put them in a world so realistic that the superhero elements don't quite fit. The creators of the TV series seem embarrassed that the source material might contain bright colors or goofy storylines and instead focus on gritty realism and gigantic city-spanning fight scenes. All of which are a part of the comics, but are not exclusively what makes up all comic stories.
I think the creators of Legion have actually done a great job of capturing a true comic book spirit with their TV show, ironically in a show that looks nothing like a comic book source material. The main characters of the show don't wear standard uniforms, except sometimes they kind'a do in that they wear the uniforms of the psychiatric institution they were in. There are bright colors, devious villains with creepy names like "The Eye" and even allusions to the comic book source material with lots of instances of the letter "X" turning up in things like windows since Legion takes place in the X-Men universe. There's also talk of backstory that readers of the comics would pick up on but aren't so inside that it spoils the overall story for everyone else watching the show.
Let's not forget the crazy dance numbers of Legion, no joke, episode arcs that take place entirely within the mind and unique characters I don't think I've seen in any other show before.
At times Legion does move at a leisurely pace. Which, at the time I was watching them, seemed like a drag but looking back I realize was building up to something more.
Just like how comic book story arcs work.
Imaginary Mary Series premiere episode 1 Grade: B+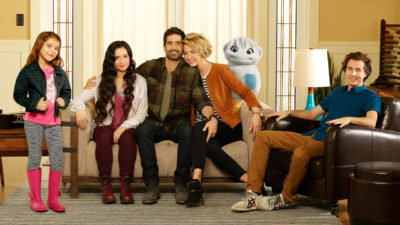 Starring Jenna Elfman as Alice, the new ABC series Imaginary Mary is a sort of cross between the classic 1980s TV series ALF and the 1991 movie Drop Dead Fred. Alice is a super-successful business woman who as a young child in a time of stress created an imaginary friend she called "Imaginary Mary" (a computer animated character but voiced by Rachel Dratch) who vanished as Alice became older. But when Alice falls for single dad Ben (Stephen Schneider) and gets stressed out when she's going to meet his three kids, Imaginary Mary unexpectedly returns to try and get Alice out of this relationship and back to the life of partying and having fun.
It doesn't help matter's that Ben's kids are the standard sitcom "kids from hell" who seem to have it out for Alice. But by the end of the first episode Alice has come to terms with her and Ben's family, even if it seems that Imaginary Mary is here to stay.
Imaginary Mary is and undeniably cute show, the problem with it is that I'm not sure where the series goes from here? I enjoyed the first episode a great deal and thought that the idea of an adult still having their childhood imaginary friend, though not totally unique, was handled interestingly here. Alice is scared to grow up and latches onto something from her past to help get through a stressful time in her life. And while Imaginary Mary just wants her and Alice to have fun it's not like she's evil. In fact she sometimes has good ideas on how Alice can better get along with Ben's kids.
My concern about Imaginary Mary is that while the first episode was interesting, I can see the series devolving into a standard sitcom — SINGLE MOM DATES A DAD WITH THREE KIDS AND WACKINESS ENSUES! — with the addition of the Imaginary Mary character. I could be wrong but to me it seems like Imaginary Mary would work best as a limited-run series or something on a cable channel that could push some boundaries. I'm not sold that Imaginary Mary will work as an ABC show, but I'd be happy to be surprised otherwise.
Fargo installment 3 TV commercial
Movies
Spider-Man: Homecoming trailer
IT trailer
War for the Planet of the Apes trailer
Valerian and the City of a Thousand Planets trailer
The Reading & Watch List
This week in pop-culture history
1933: King Kong opens in theaters
1968: 2001: A Space Odyssey premiers
1970: Colossus: The Forbin Project is released
1977: Michael Fassbender, David of Prometheus and Magneto of X-Men: First Class is born
1978: The TV series The Amazing Spider-Man debuts
1990: The TV series Twin Peaks debuts
1998: The movie Lost in Space premiers in theaters