Direct Beam Comms #21
TV
Game of Thrones  &  Veep
Both Game of Thrones and Veep returned to HBO last week with GoT entering its sixth and Veep its fifth seasons. These two series are still pretty good, but I feel that, especially with GoT, they've started to slip.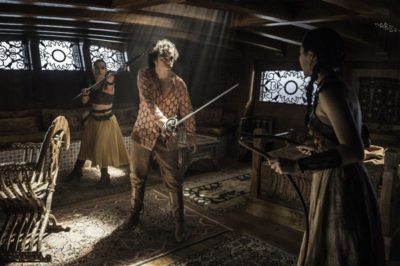 To me, GoT is kind'a starting to feel like The Walking Dead, where there's no end in sight for the story with the series set to go on and on and on. Which is fine, as long as interesting things are happening on the show — which, if this were, say, the second season of GoT it'd still be good. Except that much of the GoT story this season and last has been introducing new story elements, suddenly and sometimes violently killing characters while at the same time not really ending any particular story.
Lately, the storylines of GoT is like a ballon being filled. And which each breath the ballon grows larger and larger. Next to the balloon is a sharp knife and slowly the ballon gets bigger and gets closer and closer to the knife and destruction. And when the first ballon is starting to get realllllly close to that knife another ballon appears and like the first is slowly inflated until it begins to get closer and closer another sharp, pointy knife and oblivion.
And then there's more and more balloons introduced to the point where the tension rises and rises with each breath and expectant pop.
Except that when you look back at the first balloon, the one that had you on the edge of your seat for so long it's not so much as touched the knife and exploded, instead all the air's just been let out of it and since you were paying attention to all those other balloons you never noticed that instead of some fantastic explosion that first balloon ended in a big flabby mess.
To me, that's the formula of GoT. Lots of stories are introduced and lots of exciting things happen, but there's not much closure or resolution on anything.
There's still a war, the great GoT "houses" still don't like each other and the series is full of characters only looking out for themselves. And much of this feels like it's in place to keep the show in a "steady state." That if we look back on GoT in a few years time maybe the faces have changed, but the stories will have not.
I've heard arguments that the stories of GoT are like real life. That these things really do happen and people really do look out for themselves. And that's true, except that GoT isn't real life. It's a fictional story with dragons and magic and zombies. Which to me means that GoT really should be heading towards some conclusion. I get that maybe this conclusion might be the conclusion of part of the story and not the conclusion of the story as a whole. But it should seem like overall GoT is headed somewhere. Otherwise, GoT is just covering the same unique territory it covered in the first season but it doesn't feel all that "unique" all these years later.
Veep, on the other hand has done a good job of changing and morphing as the series has progressed. The first season started with the title character Selina Meyer (Julia Louis-Dreyfus) as the Vice President of the US, then changed with her having delusions of power as she became the actual President as the President she served under stepped down. Now Meyer's in an election fight on three sides with her holding onto the office in doubt.
To me, Veep works best in short, controlled bursts. The first season of the series had eight episodes while later ones ten. Which isn't many extra — but it does seem like when the creators of Veep are forced to be focused with a limited run like with the first season, Veep is a much more focused show. With more episodes sometimes the story wanders a bit, and I wonder if it's more because that's what the writers wanted to do, or if it's because they had to create more content for the longer season?
Game of Thrones – Grade B- Veep – Grade B+
Comics
Out now is Aliens: Defiance #1 from Dark Horse. What makes me interested in his comic is the cover artist; Mark A. Nelson. Nelson drew the very first Aliens title for Dark Horse back in 1988 and this image marks a sort of return for the artist to a character he hasn't drawn in quite some time.
Movies
X-Men: Apocalypse trailer
"Just because there's not a war doesn't mean there's peace."
"Not all of us can control our powers."
"Then don't."
Toys
NECA is set to release even more toys from the movie Aliens (1986) this time based on the characters of Vasquez and Frost. They already have a few figures released from that movie including Bishop, Ripley, Hicks and Hudson. Which makes me wonder if NECA is planning on releasing all of the A and B squad Colonial Marines?
On the Horizon
I've got columns in the works/planned for the X-Men film franchise, Independence Day: Resurgence, the movies of 1986, Suicide Squad and Star Trek too.