Direct Beam Comms #87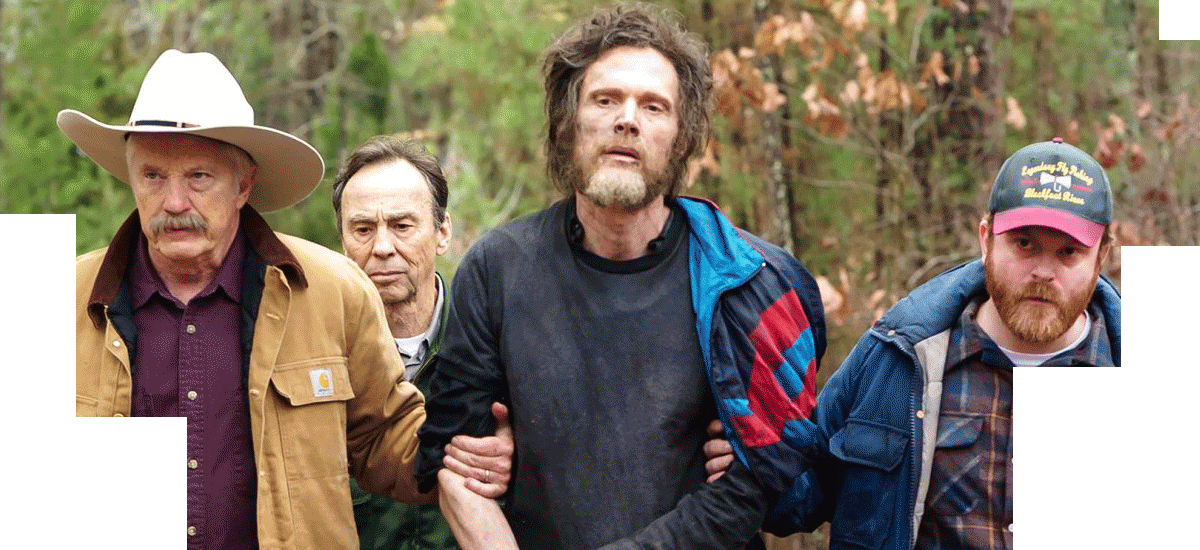 TV
Manhunt: Unabomber
True-crime series are very "in" these days and now comes a Discovery Channel true-crime drama Manhunt: Unabomber which began last week. If you're not aware, between 1978 and 1995 the "Unabomber," a man named Ted Kaczynski, send bombs through the mail to people at universities, airlines and other organizations killing three and wounding 23. Since Kaczynski was very good at covering his tracks he was able to get away with bombings for nearly two decades before he was captured by the FBI.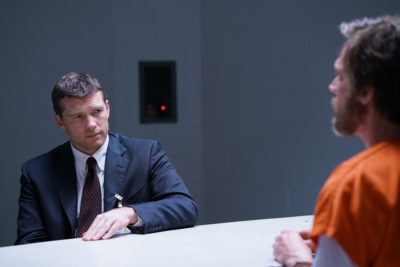 The first episode of Manhunt: Unabomber deals with recently graduated FBI profiler Jim 'Fitz' Fitzgerald (Sam Worthington) who's brought onto the Unabomber task force to create a profile of the killer in the late 1990s. But what the FBI really want is for Fitz to tow the company line and expand their already moldering profile to something longer and more media friendly. But Fitz full of "piss and vinegar" instead wants to start from scratch and redo a profile from the ground up. Which is met with a lot of hostility since at that point the FBI had been developing profiles on the bomber for nearly 20 years and were still no closer to catching him than they were in the late 1970s. But Fitz is firm on it either being his way or no way and when the Unabomber's manifesto is released, giving the FBI much more material than they ever had before to create a profile, Fitz gets his way in creating a new profile to help the FBI catch the killer.
Which they do — it's in the history books so I'm not spoiling anything but the FBI does end up catching the Unabomber and putting him in jail for life. That being said, I was interested in how the creators of Manhunt: Unabomber was handling the story of the Unabomber and they pace at which they were telling it.
For example, in the first episode we really don't get to see the Unabomber at all. We do see him typing things and a few shadowy glimpses of a figure, but we never get to see his face which I thought was brave. With a show like Manhunt: Unabomber you just know one of the major acting roles in the series is going to be that of the bad-guy, so to not show him in the first episode, played by Paul Bettany in later episodes, took some guts. It has the effect of putting us, the audience, in the "heads" of the FBI who at that point didn't know who the Unabomber was or even what he looked like other than from a witness sketch that was drawn years earlier.
I think Manhunt: Unabomber is closest in tone to the film Manhunter (1986). In each there are FBI agents trying to develop a profile of a serial killer, an FBI agent who walks the scene of a crime at night talking to himself to help develop a profile and the idea that the villain isn't around for a good chunk of the start of the piece. But I mean this in a good way. If a TV series creator is going to find inspiration in something, they could do much worse than to find inspiration in something like Manhunter.
The big difference between Manhunt: Unabomber and the other true-crime series like Serial, Making a Murderer and The People v. O. J. Simpson: American Crime Story is that part of the story of those true-crime documentaries and drama is that there's a question on whether the person arrested for the crime is guilty or not. In fact, that's pretty much the whole theme of Making a Murderer. But that's not going to be present in Manhunt: Unabomber since when they caught Kaczynski there was never any doubt on who did that crime. So, I'm assuming that most of the eight episodes of Manhunt: Unabomber will be to find a reason why he built bombs and killed people, rather than there being any question as to "who done it."
The Guest Book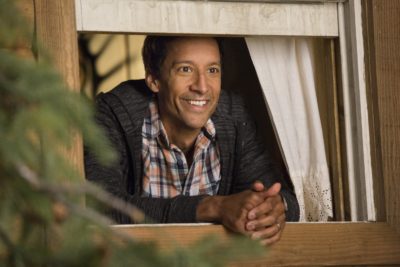 2017 has been a very interesting year for sitcoms. There's been a variety of series like People of Earth about a support group for people abducted by aliens, The Santa Clarita Diet about a zombified wife/realtor and even the now cancelled The Carmichael Show that's a sometimes twisted look at life in the 21st century from the perspective of an African American family. And now comes the new series TBS The Guest Book by Greg Garcia who also created the series My Name is Earl and Raising Hope.
This comedy series about a rental cabin at the top of a mountain has the hook that each episode features different visitors to the cabin with a different story played by different actors each week while the locals, played by the likes of Garret Dillahunt, Kellie Martin and Charles Robinson remain the same. The first episode featured Tim and Sandy (Danny Pudi and Lauren Lapkus) a young couple with a troubled marriage who rent the cabin to spend a weekend away from their baby who's marriage gets even more troubled after Tim's visit to a strip club is recorded with the owner threatening to show the tape to Sandy if Tim doesn't pay $700.
I enjoyed the first episode of The Guest Book a great deal and am very interested in seeing how this series unfolds with half of a different cast each week. I think it's a great idea for a sitcom that hasn't been tried in a while — even if HBO recently debuted a drama series about a motel room with a rotating cast called Room 104 the other week. Mostly, I'm just happy to see Garcia having another series on TV since I'm a big fan of his style of TV show.
Mindhunter promo
Narcos season three promo
Movies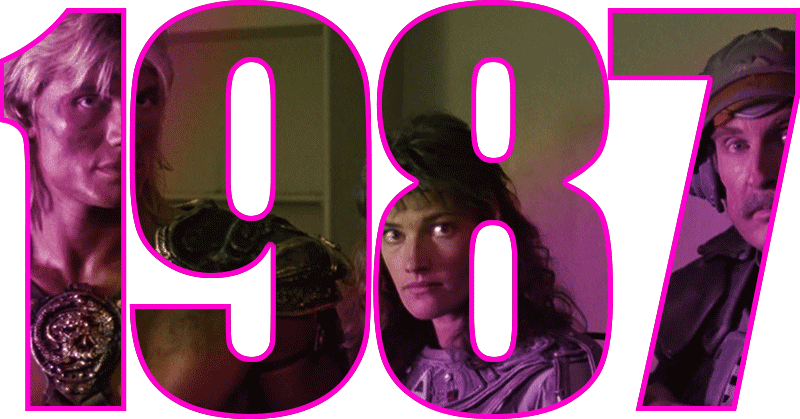 Masters of the Universe
I kind'a feel like I shouldn't be including Masters of the Universe in my reviews of movies that came out in 1987. Whereas with every other movie on this list I either liked at the time, like now or can see some glimmer of something interesting in the film looking back on it. With Masters of the Universe I thought it was a bad movie in 1987 and I think it's a bad movie today.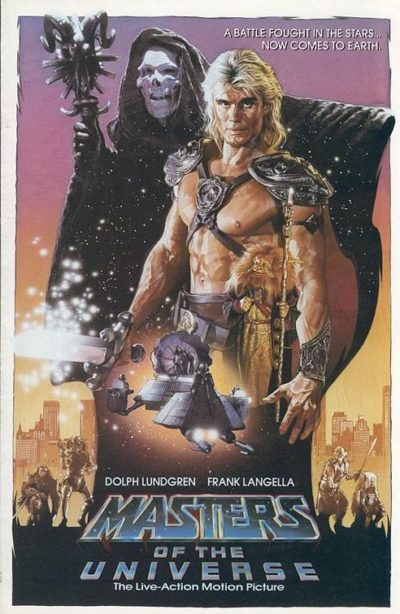 I was exactly at the right age to love the Masters of the Universe toys when they debuted in 1982 and was a huge fan of the cartoon series when it debuted a year later. I used to run off the bus each day after school to watch our local kid's show Happy's Place that featured that animated series. And over the years I had many He-Man toys and remember friends of mine having many more. But while I might have been exactly the right age for the Masters of the Universe toys, I was exactly the wrong age for a He-Man movie. In 1987 I was at the age of transitioning out of playing with toys and wasn't too interested in seeing a feature film about toys.
Still, it must've been in either late 1987 or 1988 that we rented Masters of the Universe on VHS and I finally saw the movie. Which to say was a letdown from even my low standards at the time wouldn't be an understatement.
With the classic Masters of the Universe toys and cartoon, much of the action takes place on an alien planet known as Eternia with He-Man and allies like Man-at-Arms and Teela doing battle with evil Skeleton and his minions like Beast Man and Mer-Man. It was simple stuff, good vs evil but it worked for the pre-teen set. But because I'm assuming budget reasons, most of the Masters of the Universe movie takes place not on far-off Eternia but on a 1987 Earth. Here, He-Man (Dolph Lundgren) and his allies accidentally arrive on the Earth after Skeletor (Frank Langella) conquers Eternia. And on the Earth He-Man teems up with two teens, one of which is played by Courtney Cox, in order to keep Skeletor from conquering the Earth next.
Masters of the Universe was another Cannon Films movie that also produced Superman IV: The Quest for Peace and much like with that one Masters of the Universe looks very cheap. Though it is ironic that the movie Aliens made a year earlier had a reported similar budget to Masters of the Universe and looks many times better than Masters of the Universe does. So when people complain that Masters of the Universe didn't have a good enough budget I wonder if it's more it didn't have a good enough production team for the movie?
Masters of the Universe would mark the end of movie studios trying to turn 1980s cartoon properties into feature films — for a time anyway. With animated Transformers: The Movie having flopped in 1986 and G.I. Joe: The Movie not even getting a theatrical release in 1987 and the live-action Masters of the Universe having also flopped in late 1987.
While both Transformers and G.I. Joe saw live-action movies in the last few years with two Joe movies and five Transformers films, so far the 1987 Masters of the Universe movie is the only one from that line.
The Reading & Watch List
This week in pop-culture history
1960: David Duchovny, Fox Mulder of The X-Files is born
1968: Gillian Anderson, Dana Scully of The X-Files is born
1981: Heavy Metal permiers
1985: Real Genius premiers
1985: My Science Project debuts
1986: The Transformers: The Movie (1986) opens in theaters
1987: Masters of the Universe opens
1989: The Abyss opens in theaters
1995: Escape from L.A. opens
1999: The Iron Giant premiers