The Legend of Tarzan (2016) movie review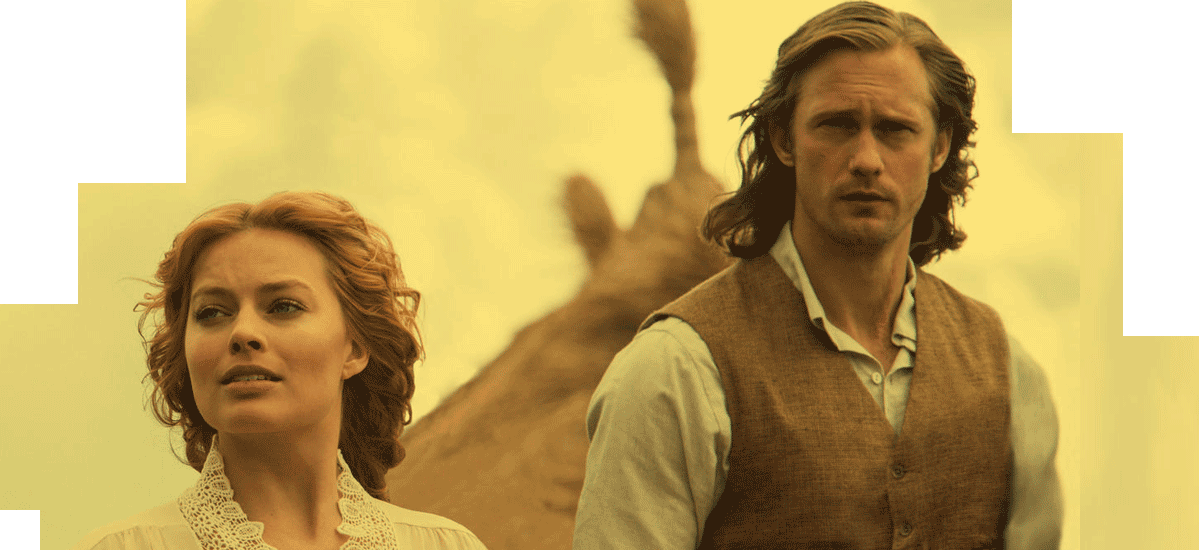 Grade: B
It seems like every few years one of the movie studios or TV channels decide to give the Edgar Rice Burroughs character of Tarzan a go. Some of these adaptations like the Disney version of Tarzan were successful and some like the 1998 Tarzan and the Lost City were not. So I'm happy to report that the latest Tarzan movie The Legend of Tarzan is one of the more successful films based on the character in memory.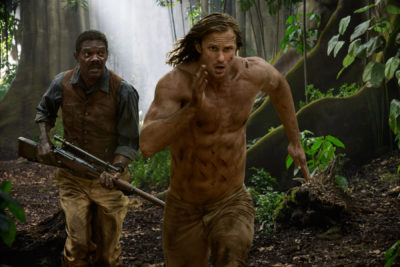 Instead of telling the origin story of the Tarzan character again, the creators of The Legend of Tarzan give us a new Tarzan adventure while still showing his backstory of being raised by apes via flashbacks. This time, Alexander Skarsgård stars as the title character who prefers to go by his given name "John" thank you very much. Transplanted from Africa, John now lives on his family's estate in England and is married to Jane (Margot Robbie). Lured back to the jungles of Africa to go on a sort of goodwill tour, instead Tarzan along with American George Washington Williams (Samuel L. Jackson) find that Belgium is in the process of enslaving the Congo and it's only a matter of time before lead henchmen Leon (Christoph Waltz) is able to bring in enough troops to complete his plan. It's up to Tarzan, George Washington and Jane along with a tribe who were once close to Tarzan and Jane as well as a bevy of animals to stop Leon and free the Congo.
I feel like I'm familiar with the Tarzan character while at the same time not being too familiar with the actual source of Tarzan. I've read loads of Tarzan comics, seen Tarzan TV cartoons, watched many of the Johnny Weissmuller films and more modern Tarzan movies too. But I've never read any of the original novels so I come at Tarzan only knowing of other's adaptations of the character. Which with The Legend of Tarzan might be a good thing. I don't have many preconceived notions on how Tarzan is supposed to behave/act and don't notice inconsistencies between this movie version of the character and the original.
I thought this 2016 version of Tarzan was more better than bad, and I liked several ways how they handled the character than what I've seen before. Like, Tarzan can't exactly talk to the animals, but has a kinship with them and is able to us them via their natural instincts towards his own ends. And I also liked how Tarzan is the ultimate outsider — he's not really at home with the apes who raised him since he's not an ape and he's not at home with mankind since he was the one guy on the planet who was raised by wild animals.
The story of The Legend of Tarzan surprised me as well. I'm usually good at figuring out how movies like this are going to end and how the third act is going to play out. And very early on in The Legend of Tarzan there's a big third act battle that's set up so I knew how the movie was going to end. Or at least I thought I knew how it was going to end. When The Legend of Tarzan actually got to this big battle it didn't happen the way I thought, and in fact the movie ends up going in a completely different direction which was much more satisfying on where I thought the movie was headed.
If there's one thing that I didn't like about the movie it was how much of it relied on computer special effects. I really can't ding The Legend of Tarzan for using computer effects to create all of the animals from apes to lions to wildebeest to crocodiles since working with live animals is always fraught with the unknown, and working with live animals that can easily kill an actor doubly so. But so much of the The Legend of Tarzan backgrounds from jungles to port cities to savanna were so obviously shot in a soundstage with artificial backdrops placed in that this really stood out to me. When the movie was on location and there were actual actors walking across actual Africa The Legend of Tarzan was breathtaking. But most of the time with these artificial backgrounds it was not so much.