Direct Beam Comms #34
TV
Stranger Things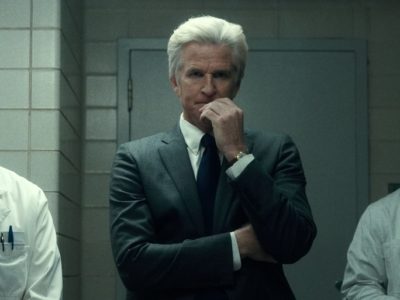 It's hard to see Private Joker from Full Metal Jacket aka Matthew Modine as the lead bad guy on Stranger Things! 😉
First World Problems
I always think of this time of year as the sort of doldrums of movies and TV and this summer's no different. This year there's a lot of interesting TV series on like The Night Of, Stranger Things and The Tunnel, and there are a few summer movies left that look worthwhile like Suicide Squad, but for the most part the summer TV/movie season has now reached its apex. Soon, summer TV finales will head into fall TV premiers that are set to begin in a few months and the same for films where movies switch from action to films geared towards the awards season start premiering. In fact, I believe the only TV series left to premiere this summer that I'm interested in, and I'd categorize it as barely being a summer premiere, is Halt and Catch Fire that starts at the end of August.
What I want to do in these Direct Beam Comms updates is, among other things, just review the first episode of a given TV series each season and then the season as a whole after the last episode airs. But since most of what I'm watching right now is in the middle of their runs, and since I really want to avoid talking about each and every episode of TV I watch since a) this isn't my paying job and b), that stuff's boring, I don't have much to write about TV now either.
What sucks too is that movie releases on home media are no better. Right now the movies that are being released are ones that debuted just before the summer movie season which is another doldrum. Or, they're movies that were released at the start of the summer season but didn't do as well as expected, which area also movies I'm happy waiting to see when they pop up on cable in a year or so.
Some movies I would like to checkout once they're out are things like The Nice Guys and X-Men: Apocalypse but those aren't available for a few weeks. I suppose what I should do in situations where I don't have anything to talk about is to just rent a recent release on iTunes and then talk about that, even if it's not something I'd generally see. The only problem with that is that I really don't enjoy posting negative things about movies and TV series I review, though I sometimes do, so I try and avoid that. And if it's something that I wouldn't generally see it makes it more likely than not that I wouldn't enjoy the movie and would have to write a negative review.
I do find it amazing that almost every week this summer I've been able to review new TV series all debuting throughout the summer. When, even just a few years ago, summer was a dumping ground for reality TV or, even farther back, strictly a place for TV reruns. And most of what debuted this summer was good with a few outstanding shows like Stranger Things and The Night Of too.
The Reading/Watching List
On the Horizon
I have longer articles planned out all the way until next February. In the near-term, I've got columns written, or at least first drafts of, Suicide Squad, Star Trek's 50th anniversary, new and returning TV series this fall, one about sci-fi and one about my experiences going to the drive-in as a teenager. I also have articles planned out for the movie What We Do in the Shadows for Halloween, Doctor Strange and The Man in the High Castle too.
This week in pop-culture history