The Riddick Pitch Black trilogy, or, two out of three ain't bad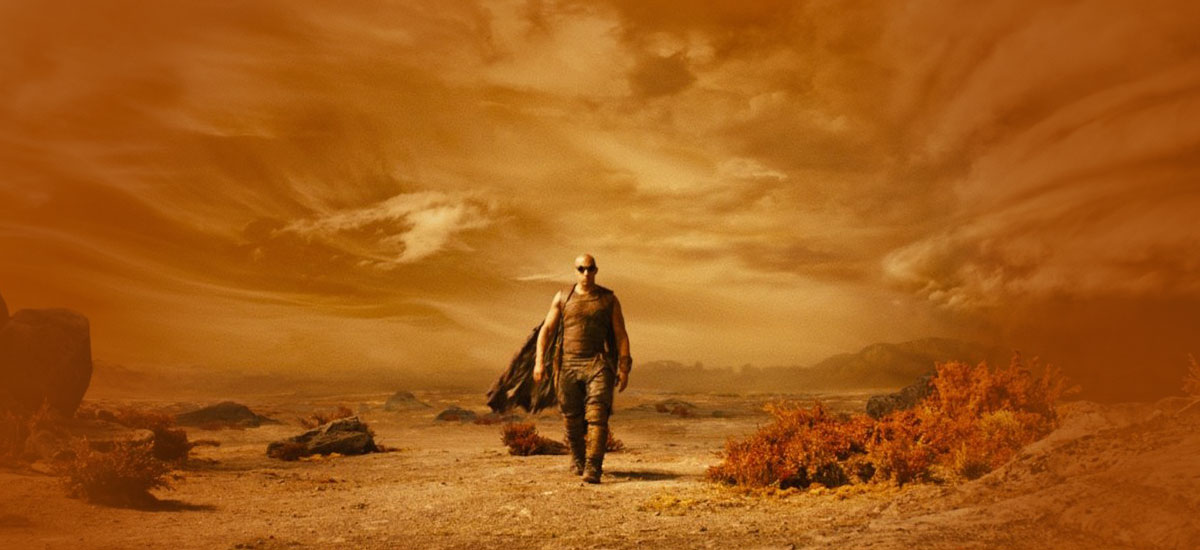 Tell them Riddick's dead.
I was one of the few people who saw the movie Pitch Black in a theater back in 2000. It was one of those movies I was extremely excited about when I heard about it and only got more and more excited as the release date approached. In fact, Pitch Black was one of the first films I covered here at Dangerous Universe "back in the day."
At the time the area I lived in had a handful of movie theaters. There was the new, nice, theater. A few older but still nice-ish theaters and a few old run-down theaters at our two malls. And when Pitch Black came out it wasn't at the nicer theaters, it wasn't even at the older theaters. Instead it was playing at one of the old dingy mall theaters that literally had the same decore it did when it opened in the 1970s. These theaters were so grungy and disused that a few years after Pitch Black they would be ground under for a few additional parking spaces.
Regardless of where I saw it, after seeing Pitch Black it became one of my favorite sci-fi movies of all-time. It's a movie that skips a lot of BS that seems to infect most movies these days. There is no character who is special or "chosen." If the characters don't succeed the world doesn't end. It takes place at some time in the future yet doesn't seem all that futuristic…
Pitch Black follows the survivors of the crashed ship Hunter Gratzner on some remote desert planet who must use all their non-sci-fi skills to survive. Unbeknownst to them, every so often their rocky planet that's always bathed in the light of one of two suns goes into eclipse by a nearby ringed planet. And this once every few decades nightfall releases all sorts of weird and dangerous creatures from underground that are out to hunt and mate and kill as much as they can before the next dawn.
Stuck in the middle of all this are the survivors just trying to make it to morning.
Also in the mix is the character of Richard Riddick (Vin Diesel). He's an escaped criminal/killer who's been caught by a bounty hunter and is traveling back to "The Slam." The survivors must decide if they can rely on Riddick to help them — he's got eyes that are super sensitive to light and is no stranger to the kinds of violence going on all around them — or if he'll ditch the group as fast as he can once they set him free.
And that's partly why Pitch Black is so interesting. On level it's a b-grade sci-fi picture with space ships and monsters and alien vistas. But on the other hand it's a story about a group of people in a terrible circumstance who must decide if they can trust the one guy you absolutely can't trust under any circumstances.
If the first half of the movie is about what happens with the cast trying to eek out survival on a sun-scorched world, then the second half when the "lights go out" is all about trust. Who can you trust when literally behind every shadow in the dark is death? Can you trust admitted murderer Riddick if not to do the right thing to at least hold his bargain until the group finds a refuge as long as his and the group's interests align? Or can you trust cop or is it bounty hunter Johns (Cole Hauser) who we slowly realize might be worse than Riddick?
I suppose with less-skilled hands Pitch Black would have just been a sci-fi movie with a lot of cool monsters and action sequences. But it's not just that, it's something more. It's a movie I come back to once every few years and can't believe how well it's held up.
Pitch Black is part horror movie survival story but as the movie progresses we come to realize that it's also a sort of redemption film for the character of Riddick, even if he's a guy that doesn't want to be redeemed or even thinks that it's possible for him.
One critique of the movie I've heard is that Diesel plays Riddick like some wrestling superstar. He wears the tank top and comes leaping off the rocks like a wrestler off the ropes in the ring. And I suppose some of that critique is true. But I think that if the character of Riddick was played without this extra level of over-the-top-ness, if instead he was just a strong guy who was also a murderer Pitch Black wouldn't have come off as well as it does.
Instead, Riddick would have just been another scary anti-hero we see all too often these days. Here, he's one step below a comic book character with minor comic book sensibilities and rather than just being scary Riddick can also be, dare I say, fun.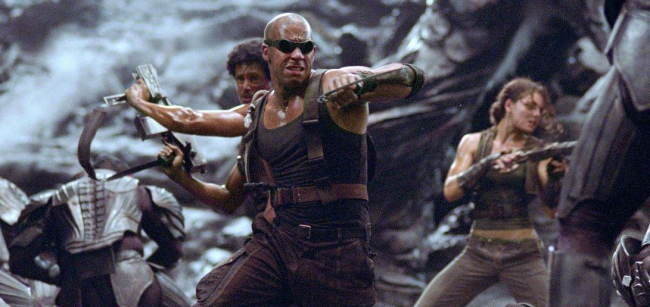 You keep what you kill.
After Pitch Black came The Chronicles of Riddick (2004). It hate even mentioning it here since both Pitch Black and later Riddick were so good, but I really can't ignore the wart that is The Chronicles of Riddick sandwiched between these two gems, so here goes –
Pitch Black did relatively well on release and soon a sequel The Chronicles of Riddick went into production. But while Pitch Black did a lot of things right from mostly ignoring the futuristic setting to telling a story for adults then The Chronicles of Riddick played up everything that Pitch Black ignored. If Pitch Black didn't focus on the futuristic setting The Chronicles of Riddick did. If Pitch Black was rated R then The Chronicles of Riddick was PG-13. It's almost as if The Chronicles of Riddick was the crappy studio remake of Pitch Black yet all of the same people who were involved in Pitch Black were also involved in The Chronicles of Riddick so it's confusing as to why that one turned out a turd.
In The Chronicles of Riddick, Riddick must face the Necromongers, a race of kind'a sort'a undead people who go around the galaxy converting people to their kind'a sort'a undead ways and blowing up planets in the process. And it's only Riddick who can stop them because he's some chosen one blah blah blah blah.
The less said about the plot the better. Regardless, after The Chronicles of Riddick it would take nearly a decade for the next Riddick movie to be released.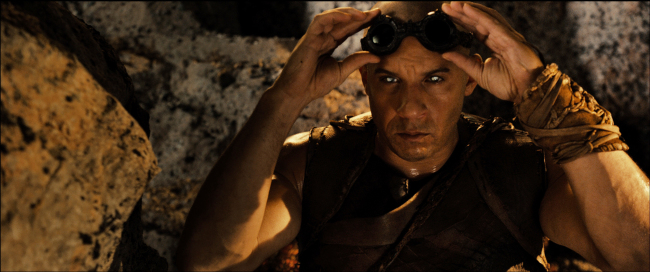 It's always the punch you don't see coming that puts you down.
A few years ago news started filtering out that another Riddick movie was in the works, this one simply titled Riddick (2013). After The Chronicles of Riddick I wasn't too excited in another overblown Riddick movie but none-the-less seeing photos released from the production of the movie and eventually the trailers too got me excited in the prospect of more Riddick.
Here's the kicker, after almost not seeing it I truly believe that Riddick is the best b-movie of the 21st century and I mean that in a good way.
Riddick goes back to what made Pitch Black work so well; gritty realism and an R-rating. Okay, sure, it's a sci-fi based realism but the Riddick story drops most of the Necromongers Underverse undead gunk build up over The Chronicles of Riddick and goes back to a lean story told in three acts.
The first act takes place over roughly the first 30 minutes of the movie where Riddick is marooned on some far off desert planet and must survive the fauna of this world. He's a cut and literal broken man with a leg fracture who must face attacks from dog-things and scorpion-things all alone with no hope of escape off this planet. What's interesting here is that all this isn't necessarily a negative for the Riddick character; he's able to thrive under these conditions. It's almost as if he's been built for them.
The middle act follows Riddick who now wants off the planet when things change and the scorpion-things begin to roam far and wide. He finds a way to call in mercenaries who are out to collect a bounty on his head. This middle part follows the mercs hunting Riddick, and Riddick in-turn eliminating the mercs one by one since he really just wants their ship to get off the planet.
And the last act of the movie has Riddick and the remaining mercs fighting to survive the onslaught of the scorpion-things and make their escape. Which is, admittedly, a bigger budget retelling of the ending of Pitch Black, right down to the wounded Riddick trying to decide who and who he cannot trust. But even here Riddick works.
In the first act of the movie the audience is following Riddick and we're on his side as he faces down the scorpion-things and raises one of the dog-things from puppy to adult. However, things change in the second act where we're introduced to two competing merc groups. The first are made up of mostly scum-suckers but the second are a group of pros who aren't overtly bad. They're the kind of mercs respectable companies wouldn't mind having on their payroll.
And when Riddick begins eliminating members of the first group we don't mind it too much. But things are a bit different when things start happening to the second. It's not that we like them over Riddick, just that it doesn't seem that they deserve the fate he's dealing them.
So we're put into the position of rooting for Riddick one moment, but taken back to what he starts doing in the second which I found very clever. Riddick asks the question of if it's okay to root for the bad-guy when he's doing good things, do we still root for him when he starts doing bad things again?
Riddick also shows just how clever Riddick is. He makes calculated decisions in order to achieve his goals and he isn't afraid to put his life on the line or everyone else's lives on the line to achieve them.
While Riddick did alright at the box office it didn't break any box office records meaning that after the theatrical run Riddick IV probably wasn't in the works. That was until the movie was released on home media. Word from Diesel himself was that the film did so well on home media that another film would soon be in the works.
Pitch Black – Grade: A
The Chronicles of Riddick – C-
Riddick – A-