Ten years on and Battlestar Galactica is still one of the best
Back in late 2003 the newspaper the Fort Wayne Reader was just starting up and I was asked to write a pop-culture column for them. Work was started on the paper months in advance of the first issue being published and one of the things the publishers of the Reader did in those early days was to reach out to TV networks and cable channels for screeners of TV series and movies to review for the paper.
That's how I got to watch the new Battlestar Galactica TV mini-series a few weeks before everyone else.
Though the copy we received was missing some special effects shots in places, I was none-the-less "blown away" at how good the mini-series was when I was totally prepared for it to be a bust since it had suffered from months and months of negative publicity beforehand. Fans, myself included, didn't like the idea that a sci-fi classic was being rebooted without the participation of the original creator nor the fact that one of the lead characters of the original series was now going to be played by a (gasp!?) woman!
I think what we forgot to take into account was that it's the 21st century so why not shake things up a bit and have a woman play a role originally meant for a man? And while we might have some nostalgia for the original 1970s Battlestar Galactica series, looking back in retrospect the series wasn't all that great so there was a lot that could be improved on.
But from the moment in the new mini-series that the Cylons came pouring out of space in search of vengeance against losing a war decades earlier against humanity I was hooked and couldn't wait for the next part of the story. Simply put, BSG was one of the best sci-fi shows ever and probably one of the best TV series of all time too. It's certainly one of the best series of the first decade of the 21st century. BSG dealt with all sorts of taboo subjects like abortion, terrorism, genocide, military rule, etc., etc., etc., that was all done in the guise of sci-fi so it didn't come off as that controversial. In fact I'm not sure there's been ANY series sci-fi or not since that's dealt with as many heavy subjects as BSG did throughout its run.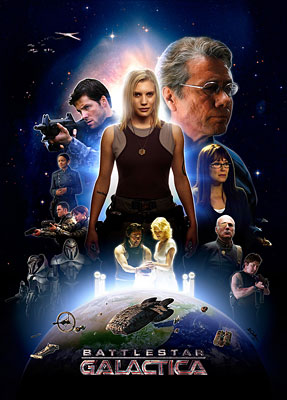 And let's not forget to what the TV landscape was like when the BSG series premiered in '04. Shows like Lost, Veronica Mars, The Wire, The Sopranos, Arrested Development and the UK version of The Office were all airing new episodes when the BSG series started. To say this was an extremely special time for TV would not be an understatement. I don't think we've had such quality of shows on all at once since then.
I've always had a sneaking suspicion that the Sci-Fi Channel didn't have much hope in BSG attracting viewers, that's why the BSG mini-series premiered in December of '03 with the regular series not starting up until months later in October of '04. I think Sci-Fi was caught by surprise that the mini-series was so well regarded by critics and fans alike, was watched by so many and received as many accolades as it did. Heck, the mini-series received three Emmy nominations — when does that happen EVER for sci-fi?
One of the things I liked best about BSG was that series creator Ronald D. Moore began recording commentary podcasts that would be released after each new episode aired. These podcasts revealed behind the scenes goings on at the show, what was cut from each episode and where scenes were filmed and how things were tied together. I can only imagine the amount of work Moore put into each episode and then to also invest time recording podcasts on top of all his other duties too was immense.
Now that I think about it, the only way I can relate to how much I loved the series, how much I enjoyed each new episode, was that BSG was so good it literally hurt when each new episode ended.
In the last decade the Sci-Fi Channel, now Syfy, hasn't aired anything to the quality of BSG. While other networks draw viewers with shows like The Walking Dead (AMC), Doctor Who (BBC America), American Horror Story (FX) and Falling Skies (TNT), all sci-fi/horror series that would seemingly be at home on Syfy, instead that channel has come to rely on cheap reality shows like Fangasm, Ghost Mine and Heroes of Cosplay and cheaply made movies like Sharknado in order to fill the hours. And while these shows might garner some viewers, they've also driven away hoards of sci-fi loving viewers like me to other channels. I used to love the SCI-Fi Channel for its programming like BSG, Farscape, MST3K and Sliders to name a few. But honestly, Syfy has changed so much that I can't say that I've watched all that much on that channel the last five years.
But all is not lost. There are several shows scheduled on Syfy in 2014 that look like they might be a return to the greatness of series like BSG. One of which is a Ronald D. Moore created Helix that's set to debut Friday, January 10. The same time BSG used to air "back in the day."
All episodes of Battlestar Galactica are available for streaming on Netflix and Amazon and the series is also available on Blu-ray.