Orange is the New Black is quite good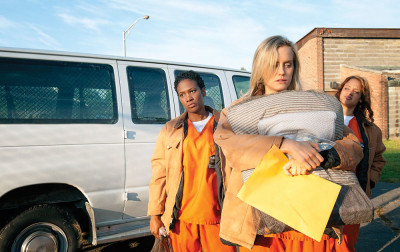 Two episodes in and I'm digging the new Netflix series Orange is the New Black. Taken from a memoir of the same name by Piper Kerman, Orange is the New Black follows boutique soap and cosmetic maker Piper Chapman (Taylor Schilling) who is sent to prison after being convicted of transporting money for a drug dealer a decade ago. Piper goes from one day being worried about things like locally sourced organic foods to the next living with all sorts of different people, all criminals Piper included, who all know how to live and work the system she's now a part of.
The way the story is told is interesting. It's the first show since Lost to use Lost style flashbacks to good effect. And the actors, from Schilling to Jason Biggs to Kate Mulgrew to Natasha Lyonne are all doing great work here. Orange is the New Black isn't as heavy as a series like Oz and has light moments mixed with the drama.
Netflix really seems to have its stuff together when it comes to original series. I've been very happy with House of Games, Arrested Development and now Orange is the New Black too.