I'm digging the BBC America series Copper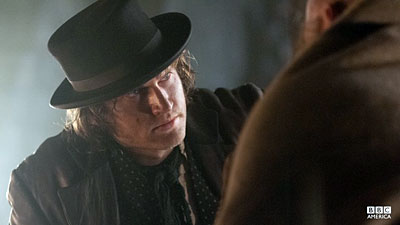 Two episodes in and I'm digging the BBC America TV series Copper, about life, the police and criminals in NYC circa 1864. Both episodes have had more than a few moments where I'd shout "oh my God!" at the screen not quite believing what just happened in the latest episode.
Copper is a bit Deadwood meets Gangs of New York, but in a good way.
From Academy Award® winner Barry Levinson and Emmy® Award winner Tom Fontana, "Copper" is a gripping crime drama series, set in 1864 New York City, filled with intrigue, corruption, mystery and murder. Kevin Corcoran (Tom Weston-Jones, "MI-5″), an Irish-American former boxer turned cop, returns from the Civil War to find his wife missing and his daughter dead. Corcoran seeks justice for the powerless in the notorious immigrant neighborhood of Five Points. Bonded by battle to two Civil War compatriots – the wayward son of a wealthy industrialist and an African-American physician who secretly assists the forensic investigations – Corcoran is thrust into the contrasting worlds of elegant and corrupt Fifth Avenue, and the emerging African-American community in Northern Manhattan. The three men share a secret from the battlefield that inextricably links their lives forever.