Direct Beam Comms #71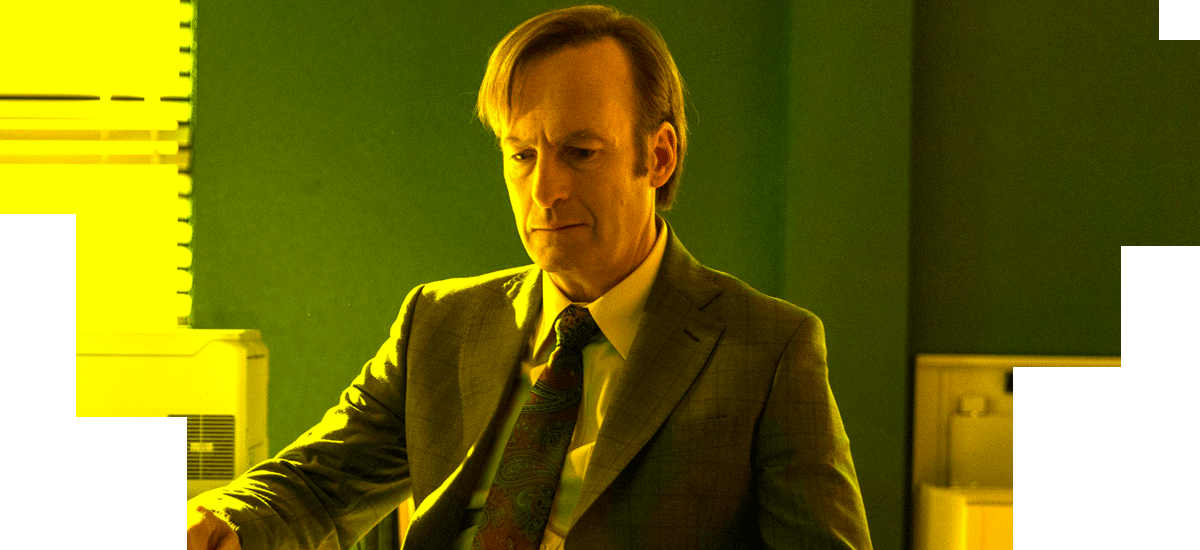 TV
Better Call Saul Season 3 episode 1 Grade: A
Some people think that Better Call Saul is a pale imitation of Breaking Bad, of which the latter is a prequel. When these people watch Better Call Saul they don't want Jimmy McGill (Bob Odenkirk), they want the guy Jimmy becomes in Breaking Bad; Saul Goodman. Except what I think these people are really getting at is that they're not as much interested in a Better Call Saul TV series and aren't willing to take that show on face value, what they really want more Breaking Bad.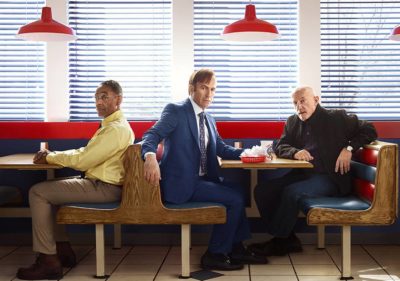 Which I get, Breaking Bad is one of the most critically acclaimed and loved series of all-time except I'd like to point out one difference between Breaking Bad and Better Call Saul — Better Call Saul is the better series of the two.
Much like from the first to second and now second to third, this latest season of Better Call Saul kicks off right where the last season ended. With Jimmy having betrayed his brother Chuck (Michael McKeen) which ended up with Chuck in the ER and then Chuck turning the tables on Jimmy. And Mike Ehrmantraut* (Jonathan Banks) finding out that while he might be following and keeping tabs on the criminal element of Albuquerque, the criminal element is also keeping tabs on him.
I think this is all why Better Call Saul is better than Breaking Bad. I'll admit that while Breaking Bad was a great series in its last few seasons, I honestly don't think it was very good in its first few. I know I'm in the minority here, but I've tried watching that series from the start but could never get into it. That was until I started watching it from later on when the character of Saul Goodman was an integral part of the show. Then I liked Breaking Bad, a lot. But there's the pesky fact that its first few seasons are just not that good, while Better Call Saul has been great right from the start.
I think a lot of that has to do that the creators of Breaking Bad having learned a lot of lessons from that series, especially what not to do, and applied them to Better Call Saul.
I find it ironic that Better Call Saul is a show with a lot of heart, from Jimmy trying and constantly failing to do right to his partner/girlfriend Kim (Rhea Seehorn) always trying to see the good in Jimmy and make him a better person. Even if in the end with the character of Saul and what he does/has done in Breaking Bad we know that's a doomed task.
What's not to love about his last name!?
Mystery Science Theater 3000 Season 12 episode 1 Grade: A-
It's crazy to think about, but until last week the last new episode of MST3K aired nearly 18 years ago. What first started on a local TV station in Minneapolis in 1988, then moved over to the cable on The Comedy Channel which became Comedy Central before switching to The Sci-Fi Channel originally ended its initial run in 1999. I think most fans of the series, myself included, assumed that would mark the end of MST3K but a nearly $6 million dollar Kickstarter campaign in 2015 meant that there was now money to produce 14 brand new episodes of the classic series, which are now streaming on Netflix.
The classic MST3K is one of my seminal cultural touchstones, even if I only ever saw a handful of episodes when they originally aired. To me, MST3K is one of those shows that I keep coming back to year after year. And even though the sets and special effects of the show are cheesy, the spirit behind MST3K has been unmatched the last few decades. I think in the current era we live in when it's very easy for filmmakers to make things look very slick, to have something like MST3K that at its core is about having things very raw and not slick at all is a bit of an anachronism. But it's a good anachronism and is something that I adore.
This new MST3K is slightly updated with new faces like Jonah Ray in the lead as Jonah Heston as well as Felecia Day and Patton Oswalt now as the bad guys. But the bots are back and there are lots of familiar names working on the series behind the scenes so this new MST3K looks, feels and has the same tone as the classic series. There are the same cheesy hand-built sets, funny models and goofy inventions. But there are some updates too from Tom Servo sometimes flying around when they're watching the movie and modern pop-culture references too. There's a Walter White joke at one point.
The first Netflix MST3K episode takes on the dreadful Danish movie Reptilicus that I'd say was unwatchable in its original non-MST3K form. In fact the only thing that made the movie bearable was having it spoofed on MST3K.
Since all episodes are available and we can see what movies will be featured in upcoming episodes, my only wonder is that most of the movies that will be joked on are all at least 30 years old at this point? It's not a complaint, just a wonder. Classic episodes of MST3K spoofed movies that were only a few years old at that point, it wasn't all jokes being made about movies several decades old. I just wonder if getting the rights to even newer bad movies is more difficult that getting the rights to older, bad movies?
I'm Dying Up Here TV spot
Comics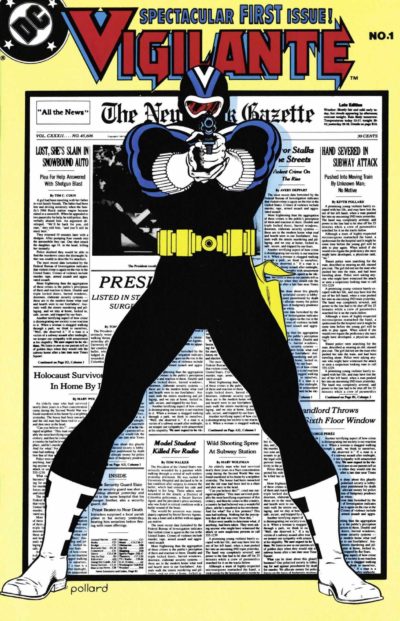 This edition collects the first 11 issues of the classic 1980s Vigilante series written by Mary Wolfman and illustrated by Keith Pollard. The 1980s Vigilante is DC's kind'a sort'a answer to Marvel's the Punisher, except whereas the Punisher doesn't wear a disguise and goes after any criminals, Vigilante is masked and is a district attorney by day Adrian Chase who goes after the criminals he sees escape justice at the courthouse at night. From Amazon:
As a district attorney for New York City, Adrian Chase used the legal system to keep the streets safe. But when it came to protecting his own family, that system failed him. After losing his wife and children in a failed assassination attempt, Chase makes the fateful decision to take justice into his own hands!

Concealed beneath a featureless mask and supported by an arsenal of custom weaponry, Adrian Chase becomes the Vigilante—and declares all-out war on criminals, using their own brutal methods against them. But Chase's new vocation comes with a price. Can inflicting violence on others truly heal the pain of his family's death? Or is the Vigilante doomed to become the final casualty of his all-consuming need for revenge?
Movies
Star Wars: The Last Jedi trailer
Thor: Ragnarok trailer
The Reading & Watch List
This week in pop-culture history
1946: Tim Curry of the mini-series IT and movie Legend is born
1954: James Morrison, TC McQueen of Space: Above and Beyond is born
1964: Andy Serkis of The Lord of the Rings and Rise of the Planet of the Apes is born
1966: Jeffrey Dean Morgan, the Comedian of Watchmen is born
1969: Joel de la Fuente, Paul Wang of Space: Above and Beyond is born
1973: Soylent Green is released
1979: James McAvoy, Charles Xavier of X-Men: First Class is born
1979: The TV series Buck Rogers in the 25th Century premiers
1996: The movie Mystery Science Theater 3000 opens
2011: The first episode of Game of Thrones airs
2013: Oblivion debuts in theaters