Direct Beam Comms #82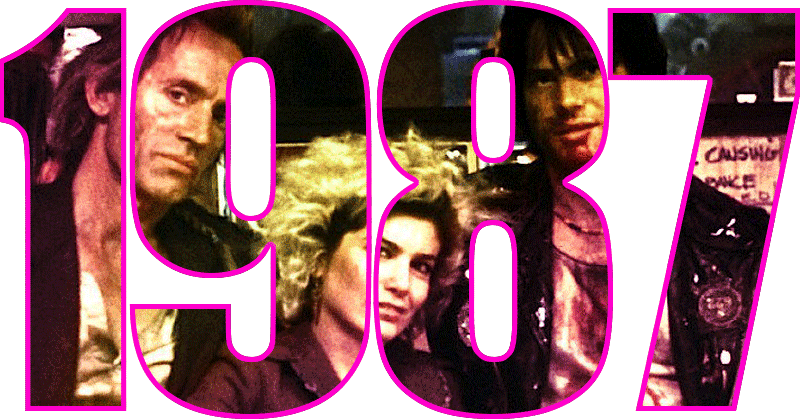 Movies
Near Dark
In 1987 there were two teen vampire movies, the first of which was The Lost Boys released at the end of July and the other was Near Dark in September. Both films are dealing with essentially the same subject of a young man being lured by a woman to become a new member of a vampire family but each movie approaches that plot in wildly different ways. While in many regards The Lost Boys is almost a perfect 1980s horror movie time capsule from actors used, fashion, soundtrack, etc. Near Dark instead was a horror film that took its inspiration from the southwest and cowboys with all the references those entail, and rather than being teen-friendly flick was instead a gory horror movie.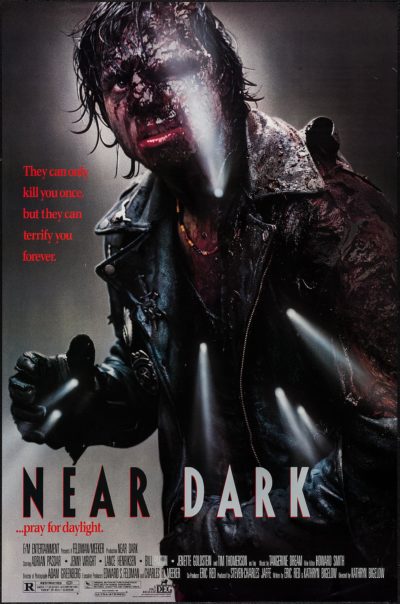 And while I'm a sucker for 1980s gory horror movies, I'm don't think that Near Dark has stood the test of time the last 30 years. But I will say that two scenes in Near Dark* alone make it worth checking out that movie today.
Co-written and directed by Kathryn Bigelow who today is known for films like The Hurt Locker and Zero Dark Thirty, Near Dark is about Caleb (Adrian Pasdar). Caleb's a cocky 20-something kid living with his dad and sister in Texas who one night is seduced by a woman named Mae (Jenny Wright), is bitten and is inducted into a family of vampires who roam the backroads of the south and pick off the stragglers of society in order to feed their need for blood. Headed by Jesse (Lance Henriksen) the family consists of members Dimondback (Jenette Goldstein), Severen (Bill Paxton), Homer (Joshua John Miller) and Mae. Giving off a Manson family vibe but in an RV, these modern vampires are on a road trip from hell stopping at every small town they cross to have a little fun and drain some people of all their blood. These aren't the flashy vampires of The Lost Boys wearing cool, modern clothes. The vampires of Near Dark are dirty, smelly and have no use for modern society.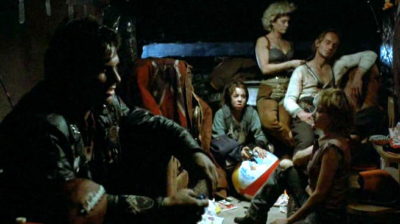 The crux of the movie is even though Caleb's been turned to a vampire, he's not yet a member of Jesse's family until he's killed someone on his own. And because the vampires need to feed is like a junkie's need to get a fix, it's all Caleb can do to not act on his impulses and end someone's life for a little blood and cross over to the dark side.
To be honest, Near Dark is a decent movie, if a little too earnest in tone. The movie does have a surprising amount of blood and gore considering that it's a film that's directed at teens. But otherwise, Near Dark isn't a bad movie, but it isn't a very good one either.
However, there are those two scenes that elevate Near Dark to something else.
The first scene is of the vampire family in a bar there to help Caleb make his first kill. Inside are a few patrons, and since you really can't kill a vampire by conventional means the family are totally unafraid of anything the patrons can throw at them be it billiard balls or shotgun blasts. Don't think this scene takes place in a melee of action. It's a surprisingly slow burn as the people inside the bar think they have the upper hand on these crazy out-of-towers but slowly realize they don't and finally are slowly, shall we say, consumed one at a time some frozen in place with fear.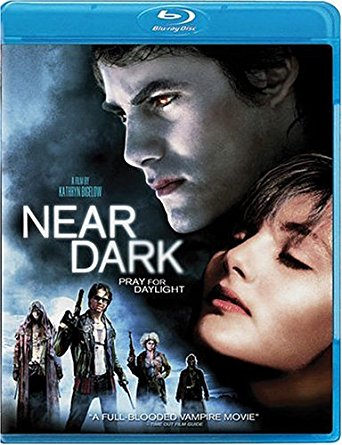 The other scene is of a gunfight in a motel after the bar scene. Here, one of the patrons escaped the bar and has brought the police to the vampire's room. The family aren't scared of the cops and their guns, but what they are scared of is that the police have arrived during the day and daylight hurts them. So there's this big shoot-out and the cops are shooting into the room and the family out. Bullets hurt the vampires but can't kill them. What really hurts the vampires are the shafts of sunlight that's let into the room from all the bullet-holes in the walls. These shafts hit harder than any bullet and hurt worse than any rifle shot. And at one point Caleb has to run out of the room to get the group's car and catches fire before he's able to get back into the shade and put himself out. Since he's a vampire the burns hurt, but they go away.
Near Dark isn't the perfect movie but it's got a lot going for it, if you can look past a slow start and a head scratching "would that really work?" ending. In recent years marketing materials have shied away from those used 30 years ago, which featured a blackened, bloodied and shot full of holes Severen to instead feature the faces of Caleb and Mae doing their best imitation of the characters from Twilight. Now there are some elements of Romeo and Juliet in Near Dark like Twilight, but on the whole Near Dark is more The Evil Dead 2 than something sappy like Twilight.
I don't think The Lost Boys* has either.
Logan Lucky trailer
TV
Halt and Catch Fire season 4 TV spot
Inhumans TV spot
The Reading & Watch List
This week in pop-culture history
1945: Burt Ward, Robin, of Batman is born
1978: The TV series Battlestar Galactica (the original series) debuts
1985: Back to the Future premiers in theaters
1995: Species opens in theaters
1996: Independence Day opens in theaters
1997: Men in Black opens
2003: Terminator 3: The Rise of the Machines premiers in theaters